Tropical Storm Hermine slams into far northeastern Mexico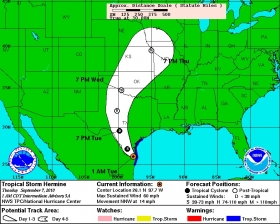 Tropical Storm Hermine slammed into northeastern Mexico near the Texas border on Monday, dumping heavy rain on a region still recovering from Hurricane Alex's visit in June.
Hermine, the eighth named storm of the Atlantic hurricane season, was expected to weaken as it moved ashore but could trigger deadly flooding and tornadoes, the U.S. National Hurricane Center said.
Authorities in Tamaulipas state where the storm made landfall evacuated 3,000 people from high-risk areas but had no immediate reports of damage or injuries.
The storm's forecast path kept it away from major oil and natural gas installations in the Gulf of Mexico, and energy companies said there had been no affect on their operations.
The Miami-based hurricane center warned the storm could dump heavy rain on the coastal region and would pack a 2-to-4-foot (0.75-to-1.25-meter) storm surge that could cause deadly flash flooding and mudslides.
Hermine made landfall at about 8:30 p.m. CDT (O130 GMT) around 40 miles south of the Texas border city of Brownsville. After moving inland, its winds diminished to 60 mph. The storm was forecast to weaken further on Tuesday as it kept moving over land.
Hurricane Alex hit northeastern Mexico in July, killing 12 people and causing heavy flooding in the business capital of Monterrey. Damage from the storm was estimated at $700 million.
Hermine was expected to dump 4 to 8 inches of rain over northeastern Mexico and south Texas, with isolated maximum amounts of 12 inches possible, the hurricane center said.
Image shows projected path of the storm.  Credit, NOAA, National Hurricane Center.
Article continues: http://www.reuters.com/article/idUSTRE6850XX20100907