Giant Greenland Iceberg -- Largest in the Northern Hemisphere -- Enters Nares Strait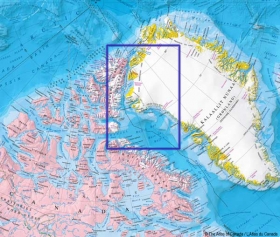 ScienceDaily (Sep. 3, 2010) — ESA's Envisat satellite has been tracking the progression of the giant iceberg that calved from Greenland's Petermann glacier on 4 August 2010. A new animation shows that the iceberg, the largest in the northern hemisphere, is now entering Nares Strait -- a stretch of water that connects the Lincoln Sea and Arctic Ocean with Baffin Bay.
The Petermann glacier in northern Greenland is one of the largest of the country's glaciers -- and until August it had a 70 km tongue of floating ice extending out into the sea. The glacier regularly advances towards the sea at about 1 km per year.
Earlier this year, satellite images revealed that several cracks had appeared. Envisat radar images showed that the ice tongue was still intact on 3 August but, on 4 August, a huge chunk had detached.
This iceberg is about 30 km long and 15 km wide at its foot and almost 7 km wide at its head, covering an area of around 245 sq km. By 22 August this giant mass of ice had been carried about 22 km from its birth place.
Article continues: http://www.sciencedaily.com/releases/2010/09/100903072655.htm