Killing frost touches western Canada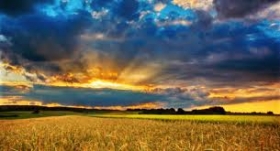 Killing frosts hit crops in northwestern Alberta on Tuesday, but a widespread frost across the Canadian Prairies looks to arrive a day later than expected, a Canadian Wheat Board analyst said on Wednesday.
The frost may have left little damage in the Peace region because wheat and canola crops there are mature enough to withstand it, said Mark Cutts, a crop specialist for the Alberta government.
Frost is of particular concern to Western Canadian farmers this year because many crops are one to two weeks behind normal growth, leaving them vulnerable to damage that reduces quality. The harvest of all crops is moving at its slowest pace in six years due to rainy weather, with less than one-quarter finished as of Monday.
Killing frosts, which halt the growth of plants when temperatures fall below minus 2.2 degrees Celsius (28 degrees Fahrenheit), settled into Alberta's Peace region, a major grower of wheat and canola, said Stuart McMillan, the Wheat Board's crop and weather analyst.
The harvest in the Peace region was 25 percent done as of September 9, the most advanced in Alberta.
A small pocket of northwestern Manitoba around Grandview also had killing frost, McMillan said.
A more widespread killing frost looks to arrive Friday morning in Alberta and spread east, one day later than the Wheat Board forecast on Monday.
Photo credit: bulkgrain.info
Article continues: http://www.reuters.com/article/idUSTRE68E51L20100915