Tropical Storm Richard aims for Belize, may become hurricane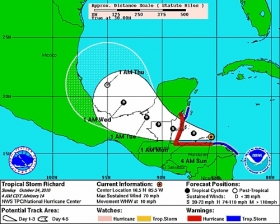 Tropical Storm Richard dumped rain on Honduras on Sunday and was seen becoming a hurricane before hitting Belize and Mexico's Yucatan peninsula later in the day.
Richard had top sustained winds near 70 miles per hour and was expected to barrel through southern Mexico and emerge in Mexico's oil-rich Bay of Campeche on Tuesday as a tropical depression, the U.S. National Hurricane Center said.
At 5 a.m. EDT (0900 GMT), the storm was about 25 miles east of Isla Guanaja, Honduras, after brushing past the remote Miskito coast region where indigenous groups live in wooden houses along rivers vulnerable to flooding.
The hurricane center said the storm was a relatively small tropical cyclone, but becoming better organized.
Richard, the 17th named storm in the Atlantic this year, might eventually veer north toward U.S. oil and natural gas production facilities in the Gulf of Mexico, according to forecasts by some computer weather models.
Honduran authorities said they were evacuating residents and tourists from several coastal areas.
"(We will) evacuate between 3,000 and 4,000 people that live in coastal zones where there could be a storm surge and heavy winds," said Randolfo Funez, an emergency response official.
Richard was moving west-northwest at 10 mph and was expected to strike Belize and southeastern Mexico later on Sunday, the Miami-based hurricane center said. Honduras and Belize issued hurricane warnings, and Mexico started evacuating fishermen on the Yucatan peninsula.
Richard is expected to become a hurricane later Sunday morning, the hurricane center said.
Mexico's state oil company, Pemex, said it was watching the storm as it drew closer to the Bay of Campeche, where Mexico produces more than two-thirds of its 2.6 million barrels-per-day of crude output.
Figure shows projected path of storm.  Credit: National Hurricane Center.
Article continues: http://www.reuters.com/article/idUSTRE69K5R620101024