Naples dump on hold, garbage piles up in the streets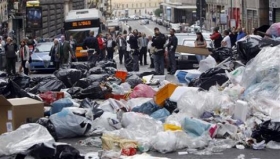 The Italian government has put the opening of a new waste dump near Naples on hold after weeks of protests by residents, but demonstrators said the proposal was not enough and garbage continued to pile up in the streets.
The head of the civil protection authority, sent to Naples by Prime Minister Silvio Berlusconi to deal with the latest garbage crisis, has suspended indefinitely the opening of the new dump "to pursue optimal environmental and health conditions."
Civil Protection chief Guido Bertolaso initially made the compromise offer conditional on the protests ending, but new clashes erupted in the outskirts of Naples as demonstrators demanded legal guarantees the new dump would be abandoned.
Mayors of garbage-strewn towns near the planned new dump, where residents complain of the stench and of toxic waste coming from an existing landfill, refused to sign up to Bertolaso's proposal on Sunday.
"Our citizens wanted more guarantees, we could not obtain them so we decided not to sign up to the document," Gennaro Langella, mayor of Boscoreale, told reporters after talks with Bertolaso. A new meeting was scheduled for Tuesday.
Protesters clashed with police overnight in Terzigno, the town at the foot of Mount Vesuvius which has been at the heart of the protest. Police said six people were injured in the clashes and two protesters were held.
Around 3,000 people marched in the streets of Terzigno and Boscoreale on Sunday, fearing the opening of the new dump would simply be postponed. One banner read: "Stop to the garbage, stop to the lies, stop to the violence. We want to live."
"The protests must cease immediately" Bertolaso said late on Saturday. "This is the only condition we set."
However, he said on Sunday he would go ahead with his plan even though the mayors had not backed it yet.
"We consider this agreement valid and we will apply it unilaterally," Bertolaso told reporters.
Photo shows police patroling a street full of rubbish in Naples October 24, 2010.  Credit: REUTERS/Ciro De Luca
Article continues: http://www.reuters.com/article/idUSTRE69N17T20101024