Florida Will Build Nation's First High-Speed Rail Corridor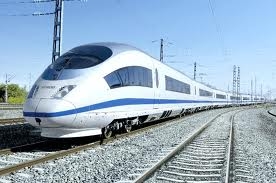 As the Obama Administration pushes for high-speed rail networks across the country, Germany's Siemens has secured a place for its Valero ICE trains in the Sunshine State.
Earlier this month, Siemens presented its vision of U.S. high-speed rail to the people of Florida with the "Future of Florida High-Speed Rail Tour," a traveling exhibit featuring a full-sized model of the Velaro high-speed train.
Apparently, the strategy worked, as Florida recently announced that it would make transportation history as the first state to build a high-speed rail corridor, with trains connecting Tampa to Orlando and then to Miami in a second phase.
"We want to give Floridians a taste of what a true high-speed rail train looks and feels like," added Oliver Hauck, president of Siemens Mobility in the U.S. "Siemens Velaro trains are successfully running on some of the fastest and most important routes in the world today."
Article continues: http://blog.cleantechies.com/2010/10/19/florida-build-nation's-first-high-speed-rail-corridor/