Barstow water contaminated with perchlorate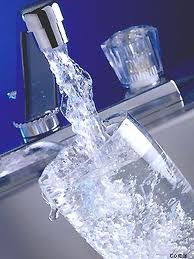 Gov. Arnold Schwarzenegger declared a state of emergency Saturday in Barstow after samples of the city's water supply were found to be contaminated with a chemical used in rocket fuel and defense manufacturing.
A statement on the city's website says the Golden State Water Co. was notified Thursday that water samples showed levels of perchlorate above the maximum contaminant level of 6 parts per billion.
Golden State Water identified and shut down three wells out of 20 that show elevated levels of the chemical, reported the Desert Dispatch newspaper in Barstow. One of the wells was located near the Marine Corps Logistics Base in Barstow.
The base's Nebo Annex Thursday showed levels of perchlorate up to three times the normal amount, public affairs officer Rob Jackson told the Dispatch. Officials asked residents and employees at the base to refrain from drinking tap water.
Golden State Water planned to flush the system to get rid of residual contaminants but could not say how long that would take.
About 40,000 people were affected and hotels, cafes and restaurants had closed as a result, a statement from the governor's office said.
Photo credit:  http://www.birthingmothers.ca/dosanddonts.html
Article continues: http://www.msnbc.msn.com/id/40291658/ns/us_news-environment/