Volcano erupts in central Ecuador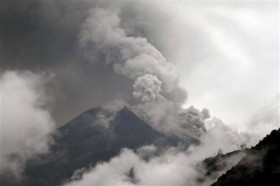 Villagers fled their homes on Saturday after a volcano in central Ecuador erupted, spewing rocks, gas and ash that prompted officials to issue an alert and order the evacuation of nearby communities.
People living within five miles of the eruption were evacuated, authorities said.
The Tungurahua volcano, which means "Throat of Fire" in Ecuador's native Quechua language, has been rumbling off and on since seismic activity began to pick up in the area in 1999.
Located 80 miles southeast of the capital, Quito, the 16,500-foot (5,020-meter) Tungurahua is one of eight active volcanoes in the Andean nation.
The volcanic activity began to subside after five hours on Saturday, according to authorities. But the official alert stayed in effect.
"There remains a constant column of ash emissions," according to a statement from the Polytechnic Geophysics Institute, Ecuador's main volcano monitor.
Parts of Banos, a nearby town popular with foreign and local tourists, were among the places evacuated.
Photo shows Ecuador's Tungurahua volcano spewing molten rocks and large clouds of gas and ash near Banos, about 178 km (110 miles) south of Quito, December 4, 2010.
Credit: REUTERS/Stringer
Article continues: http://www.reuters.com/article/idUSTRE6B328X20101204