Mountain gorilla population up by 100 individuals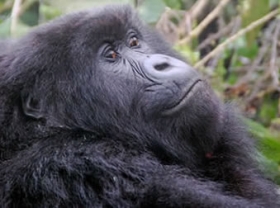 Conservation appears to be working for the Critically Endangered mountain gorilla (Gorilla beringei beringei) in the Virunga massif region, as a new census shows an additional 100 individuals from the last census in 2003, an increase of over a quarter. The Virunga massif is a region in three nations—Rwanda, the Democratic Republic of Congo, and Uganda—and covering three protected area.
"The survey results provide us with an excellent demonstration of how strong law enforcement efforts put in place to safeguard flagship species can advance species conservation, benefit local communities, and provide important revenue to governments," David Greer, African Great Ape Coordinator with WWF said.
The census, conducted between March and April of this year, found 480 gorillas, whereas 7 years ago there were only 380. The only other population of mountain gorillas occurs in Bwindi Impenetrable National Park in southern Uganda, which is thought to number 302 individuals and 4 orphans, making a total of 786 wild mountain gorillas surviving.
Even with the good news, mountain gorillas, a subspecies of the eastern gorilla, are deeply threatened. Nine gorillas are known to have been killed in Virunga during the last 7 years, including heavily-publicized execution-style killings. Still, mountains gorillas are faring better than the world's other gorillas.
Article continues: http://news.mongabay.com/2010/1207-hance_mountaingorillas.html