Air pollution linked to 200,000 premature deaths in UK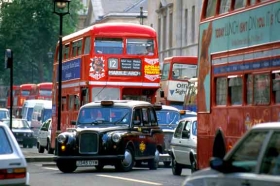 Campaigners urge health secretary Andrew Lansley to act to reduce air pollution, as government medical experts warn of its 'significant' health burden. Long-term exposure to particulate pollution, largely from road traffic, is shortening the lives of as many as 200,000 every year, according to a government advisory committee.
The UK has repeatedly failed to meet EU air pollution targets over the decades with more than 20 towns and cities found to be emitting pollution at twice the WHO limits. Of particular concern are dusts, sulphates and nitrates from road traffic and other sources, known as particulate matter.
These small particles can be carcinogenic and are able to pass through the lungs into the bloodstream, causing inflammation and other more serious conditions. Twice as many people today suffer from lung disease and asthmatic conditions caused by air pollution than did 20 years ago.
Studying data from 2008, the independent Committee on the Medical Effects of Air Pollutants (COMEAP) estimated that completely removing particulate pollution would have added six months to the life expectancy of every new birth in the UK that year.
Article continues: http://www.theecologist.org/News/news_round_up/701026/air_pollution_linked_to_200000_premature_deaths_in_uk.html