Wheat Poised to Weather Climate Change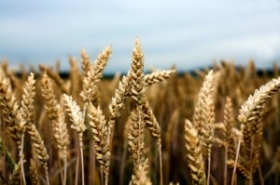 With climate change predicted to alter precipitation and raise temperatures in North American grain-growing regions by 3 to 4 degrees Celsius (about 5 to 7 degrees Fahrenheit) by the end of the century, crops in the future will face dramatically different growing conditions than they do today.
But a new study shows that over the last century and a half, North American wheat crops spread into regions with even wider temperature and precipitation differences than will arise over the next century. This analysis suggests it will be possible to adapt to new wheat-growing conditions.
"As global change takes place, adaptation will help solve some of the problems that are created. Scientists and farmers are not going to roll over and not do anything," said economist Alan Olmstead of the University of California, Davis, who carried out the analysis with economist Paul Rhode of the University of Michigan, Ann Arbor. "When we look at how great the adaptations were in the past, it gives us a sense of what might be achieved in the future."
The pair used a county-by-country record of wheat production in North America from 1839 to 2007 to document how wheat-growing conditions changed over time. They found that in 2007 the median annual temperature norm for areas of wheat production was 3.7 degrees Celsius (6.6 degrees Fahrenheit) colder than in 1839, and that average precipitation was halved.
The geographic center of wheat production in 1839 was in eastern Ohio. In 2007, it was in west-central South Dakota, the authors said in their paper, published today in Proceedings of the National Academy of Sciences. Farmers grew 26 times more wheat in the United States in 2009 than in 1939, and 270 times more in Canada.
Article continues: http://news.discovery.com/earth/wheat-climate-change-agriculture-101227.html