Weather Rarity: Snow in 49 States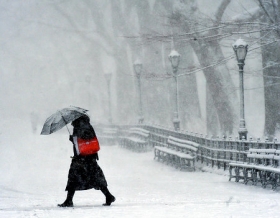 Get out the toboggans and winter gloves: There's snow on the ground in 49 out of 50 U.S. states – including Hawaii. The only state that isn't at least partially a winter wonderland today is Florida, according to the National Weather Service (NWS). The agency estimates that 70.9 percent of the country is currently covered by snow.
"It's not typical," NWS public affairs officer James Peronto told LiveScience. The National Operational Hydrologic Remote Sensing Center, which tracks snowfall, doesn't keep statistics on the average snow cover, Peronto said. However, in December, an average of 35 percent of the United States had snow on the ground.
Unusual Southern Storm
Snow in the Rocky Mountain states and Northeast is the norm in winter, of course. Even Hawaii often sees snowfall at high elevations. Right now, the top of the dormant volcano Mauna Kea on the island of Hawai'i is covered with 7 inches (18 centimeters) of snow.
What's unusual about today is the winter storm that passed through the Southeast, Peronto said.
"The Southern states don't typically get significant snow amounts through the year," Peronto said. "It takes a special kind of weather scenario to allow that to happen."
In this case, moisture from the Gulf of Mexico met up with cold air parked over the South. The result: Ice, sleet and plenty of the white stuff.
Article continues: http://www.livescience.com/environment/winter-weather-snow-49-states-110112.html