Trek North America Along the Great Eastern Wildway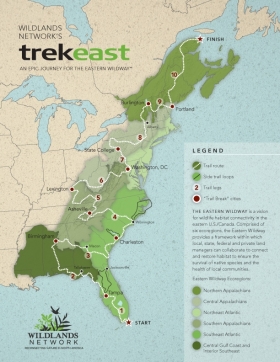 Starting February 3rd, a group of wilderness enthusiasts are embarking on an epic adventure across the eastern seaboard of North America. The scope of the adventure may even blow away the revered Appalachian Trail. The conservation non-profit group, Wildlands Network is launching writer and explorer John Davis on a 4,500 mile journey from the southern tip of Florida to the Gaspe Peninsula in Canada.
Firstly, the mission of the wilderness journey is to explore the remaining wild areas along the visioned Eastern Wildway. Secondly, it is to encourage the creation of a network of people and organizations who share the common goal of conservation. Every stop along the way, there will be gatherings of these wilderness visionaries in support of the mission.
The journey will take a zigzagging path through 13 states and two Canadian provinces. Almost all of the 4,500 miles will be muscle powered. This includes hiking, biking, walking, running, kayaking, canoeing, and skiing. Special guests will be joining John on his quest as well as supporters he meets along the way.
The main focus of the trek is the issue of North America's wildlife corridors. The problem is that they are all fragmented by highways, agriculture, or suburban developments. The habitat connectivity, which is necessary for wildlife to thrive, simply does not exist. The preservation of wildlife is important so that natural ecosystems can perform their services and so future generations can enjoy them.
The journey will travel through many of the remaining wild areas in the eastern half of the continent. The wilderness crusaders will be met by supporters at every step of the way who want to help connect the natural landscapes which they treasure. The ultimate goal is to create an Eastern Wildway, a wildlife corridor big enough for wild ecosystems and human ecosystems to thrive together.
The journey, known as TrekEast, will be led by John Davis, founder of Wildlands Network, past editor of Wild Earth magazine, writer, and naturalist. The 47 year old can be characterized as tri-athlete meets John Muir. He believes "a wild adventure and the exhilaration of motion can attract outsiders to the noble -- but often challenging -- cause of protecting wildlife habitat." All supporters of wilderness in eastern North America are encouraged to join this wild adventure.
For more information: http://www.wildlandsnetwork.org/