U.S. farmers get OK to plant GMO alfalfa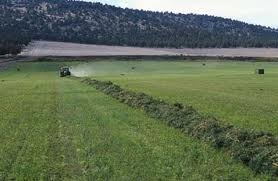 The US Department of Agriculture said on Thursday farmers could proceed with planting genetically altered alfalfa without any of the restrictions that opponents say are crucial to protect organic and conventional farm fields from contamination.

But opponents of biotech crops were disappointed.
The U.S. Agriculture Department had signaled last month that it might forge a first-ever compromise approval with a range of restrictions for planting, but there were no such conditions in the plan announced Thursday.
The USDA said the decision, made by its Animal and Plant Health Inspection Service, was made after analysis of various economic and environmental factors, and allows GMO farmers to get their crop in the ground this spring.
"After conducting a thorough and transparent examination of alfalfa ... APHIS has determined that Roundup Ready alfalfa is as safe as traditionally bred alfalfa," Agriculture Secretary Tom Vilsack said.
Alfalfa is the fourth-largest U.S. field crop grown, worth roughly $8 billion to $10 billion and grown on about 20 million acres as food for dairy cattle and other livestock.
The decision Thursday to allow planting of genetically altered version comes after years of court battles with opponents.
Developed by biotech leader Monsanto Co to tolerate treatments of Monsanto's Roundup herbicide, "Roundup Ready" alfalfa is preferred by many farmers because it makes killing weeds easier.
Photo credit: http://oregonprogress.oregonstate.edu/winterspring-2002/quiet-giant
Article continues: http://www.reuters.com/article/2011/01/28/us-gmo-alfalfa-usda-idUSTRE70R3UP20110128