All Aboard for High-Speed Rail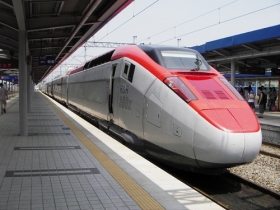 The Obama administration has given passenger rail the strongest federal push since the days of Abraham Lincoln in hopes of spurring job growth and keeping pace with a rising China. In early 2010, Washington allotted $8 billion in stimulus cash to fund 13 high-speed rail systems spread across 31 states, including projects in Florida, the Midwest, California, and the Northeast. "Within 25 years, our goal is to give 80 percent of Americans access to high-speed rail," said President Obama during the 2011 State of the Union address.
America's current "high-speed" train, Amtrak's Acela Express, averages a mere 80 mph along its 16-station route from the District of Columbia to Boston. By comparison, France's TGV has an average speed of more than 150 mph, and China just built a train that can exceed 300 mph. An Acela trip from New York to Boston costs about $100 and clocks in around 3.5 hours—or just a tad quicker than the $15 buses that leave from Chinatown. As anyone who has traveled on Amtrak will tell you, the system is not known for punctuality, thus putting Amtrak in close competition with the independent bus lines.
In an automobile-driven nation, some see the federal government's rail initiative as overly optimistic, questioning the demand. This has led Transportation Secretary Ray Lahood to defend high-speed rail with an "if you build it they will come" attitude. Across the country, high-speed rail has encountered vociferous opposition, and some don't even want to build it all. California received the lion's share of the federal rail earmarks ($2.25 billion), but even in that state critics have dubbed the proposed Central Valley line a "train to nowhere." Florida's new conservative governor, Rick Scott, has considered saying "no thanks" to $2.39 billion in federal funding for his state, while his newly elected Republican colleagues in Wisconsin and Ohio beat him to the punch—both asked Secretary Lahood to redirect $1.2 billion in grants.
Like most everything these days, high-speed rail has become politicized. "On the one hand we have tremendous presidential leadership, and on the other we have emerging partisanship around what was historically a very bipartisan issue," said Kevin Brubaker, Deputy Director of the Environmental Law & Policy Center, a public interest advocacy organization.
Article continues: http://www.policyinnovations.org/ideas/briefings/data/000194