Oysters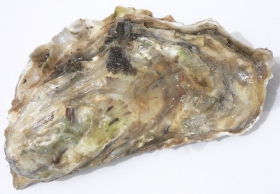 The word oyster is used as a common name for a number of distinct groups of bivalve molluscs which live in marine or brackish habitats. A new, wide-ranging survey that compares the past and present condition of oyster reefs around the world finds that more than 90 percent of former reefs have been lost in most of the bays and ecoregions where the prized molluscs were formerly abundant. In many places, such as the Wadden Sea in Europe and Narragansett Bay, oysters are rated "functionally extinct," with fewer than 1 percent of their former reefs persisting. The declines are in most cases a result of over harvesting of wild populations and disease, often exacerbated by the introduction of non-native species. Oysters have fueled coastal economies for centuries, and were once astoundingly abundant in favored areas.
Some kinds of oyster are commonly consumed by humans, cooked or raw. Other kinds, such as pearl oysters, are not.
Oysters are filter feeders, drawing water in over their gills through the beating of cilia. Suspended plankton and particles are trapped in the mucus of a gill, and from there are transported to the mouth, where they are eaten, digested. Oysters feed most actively at temperatures above 50 °F. An oyster can filter up to 1.3 US gallon of water per hour. Chesapeake Bay's once flourishing oyster population historically filtered excess nutrients from the estuary's entire water volume every three to four days.
In the early 19th century, oysters were cheap and mainly eaten by the working class. Throughout the 19th century, oyster beds in New York harbor became the largest source of oysters worldwide. On any day in the late 19th century, six million oysters could be found on barges tied up along the city's waterfront. Oysters were naturally quite popular in New York City, and helped initiate the city's restaurant trade. New York's oystermen became skilled cultivators of their beds, which provided employment for hundreds of workers and nutritious food for thousands. Eventually, rising demand exhausted many of the beds. To increase production, they introduced foreign species, which brought disease, when combined with effluent and increasing sedimentation from erosion, which destroyed most of the beds by the early 20th century.
Oysters' popularity has put an ever-increasing demands on wild oyster stocks. This scarcity increased prices, converting them from their original role as working class food to their current status as an expensive delicacy.
The new survey is published in the February issue of BioScience, the journal of the American Institute of Biological Sciences. It was conducted by an international team led by Michael W. Beck of The Nature Conservancy and the University of California, Santa Cruz. Beck's team examined oyster reefs across 144 bays and 44 ecoregions. It also studied historical records as well as national catch statistics. The survey suggests that about 85 percent of reefs worldwide have now been lost. The BioScience authors rate the condition of oysters as "poor" overall.
Most of the world's harvest of native oysters comes from just five ecoregions in North America, but even there, the condition of reefs is "poor" or worse, except in the Gulf of Mexico. Oyster fisheries there are "probably the last opportunity to achieve large-scale oyster reef conservation and sustainable fisheries," Beck and his coauthors write.
Oysters provide important ecosystem services, such as water filtration, as well as food for people. The survey team argues for improved mapping efforts and the removal of incentives to over-exploitation. It also recommends that harvesting and further reef destruction should not be allowed wherever oysters are at less than 10 percent of their former abundance, unless it can be shown that these activities do not substantially affect reef recovery.
For further information: http://www.aibs.org/bioscience-press-releases/110203_oysters_at_risk_gastronomes_delight_disappearing_globally.html