Bears Uncouple Temperature and Metabolism for Hibernation, New Study Shows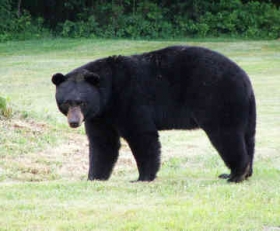 ScienceDaily (Feb. 17, 2011) — Several American black bears, captured by the Alaska Department of Fish and Game after wandering a bit too close to human communities, have given researchers the opportunity to study hibernation in these large mammals like never before. Surprisingly, the new findings show that although black bears only reduce their body temperatures slightly during hibernation, their metabolic activity drops dramatically, slowing to about 25 percent of their normal, active rates.
This discovery was unexpected because, generally, an organism's chemical and biological processes are known to slow by approximately 50 percent for each 10 degree (Celsius) drop in body temperature. These Alaskan black bears only lowered their core body temperatures by five or six degrees, yet their metabolism slowed to rates much lower than researchers had imagined.
Furthermore, the black bears' metabolism remained significantly suppressed for several weeks after the animals emerged from their slumber.
Øivind Tøien and a group from the Institute of Arctic Biology at the University of Alaska Fairbanks, along with colleagues from Stanford University, will report their findings at the 2011 AAAS Annual Meeting in Washington, DC, on 17 February. Their study will also appear in the 18 February issue of Science.
Article continues: http://www.sciencedaily.com/releases/2011/02/110217141311.htm