Arctic sea ice ties for smallest ever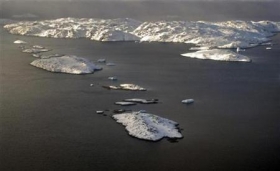 Even at its biggest, Arctic sea ice extent this winter was among the smallest ever seen, apparently tying with 2006 for the least amount of ice covering the region around the North Pole, U.S. researchers reported.
Sea ice on the Arctic Ocean usually starts growing in September and hits its maximum area in February or March; this year, the maximum appeared to occur on March 7, when ice stretched over 5.65 million square miles (14.64 million square km), according to the National Snow and Ice Data Center.
That area of ice-covered water is 471,000 square miles (1.2 million square km) below the average maximum ice extent observed by satellites from 1979 to 2000, the center said in a statement.
As of Tuesday, the extent of the ice had shrunk for five straight days, but there is a chance it could expand again, the center said.
"Sea ice extent in February and March tends to be quite variable, because ice near the edge is thin and often quite dispersed," the statement read.
This thin ice is sensitive to weather, which can make it move or melt quickly, and it often stays around the maximum for days or weeks, as it has done this year.
Article continues: http://www.reuters.com/article/2011/03/24/us-arctic-ice-idUSTRE72N7KL20110324