Wind Can Keep Mountains from Growing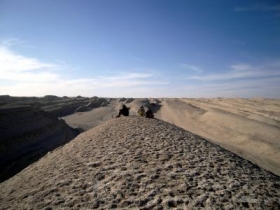 ScienceDaily (Mar. 28, 2011) — Wind is a much more powerful force in the evolution of mountains than previously thought, according to a new report from a University of Arizona-led research team. Bedrock in Central Asia that would have formed mountains instead was sand-blasted into dust, said lead author Paul Kapp.
"No one had ever thought that wind could be this effective," said Kapp, a UA associate professor of geosciences. "You won't read in a textbook that wind is a major process in terms of breaking down rock material."
Rivers and glaciers are the textbook examples of forces that wear down mountains and influence their evolution.
Wind can be just as powerful, Kapp said. He and his colleagues estimate wind can be 10 to 100 times more effective in eroding mountains than previously believed.
The team's paper, "Wind erosion in the Qaidam basin, central Asia: implications for tectonics, paleoclimate, and the source of the Loess Plateau," is in the April/May issue of GSA Today.
Article continues: http://www.sciencedaily.com/releases/2011/03/110328162029.htm
Photo shows a wind-formed ridge in the Qaidam Basin of Central Asia. Courtesy of Paul Kapp, University of Arizona.