Texas wildfires still raging, but weather may help bring them under control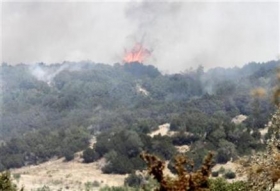 Substantially higher humidity, lighter winds, and the possibility of drenching thunderstorms had firefighters battling the huge PK Complex brush fire in north Texas more optimistic on Saturday than they have been in days, officials said.
The weather could also help control some of the other fires that have been ravaging parts of the state.
The monstrous PK Complex brush fire has charred 148,000 acres and destroyed nearly 300 structures, including 167 homes.
"Everyone is optimistic, things are looking good," Haven Cook, Public Information Officer for the Southern Area Incident Management Team, said at a media briefing Saturday morning.
The management team is leading the tanker trucks, aircraft and more than 400 firefighters arrayed against the fire,
Cook said the fire -- actually a combination of four separate fire covering two counties which merged near the resort community of Possum Kingdom Lake about 70 miles west of Ft. Worth -- is listed at 25 percent contained.
Officials now hope to have it completely contained by Saturday, April 30. But Cook says those figures could become more optimistic as weather conditions allow firefighters to turn back the flames.
"There is actually nothing spreading right now," Cook said. "In fact, we have seen no open flames today. But it is smoking and smoldering and crews are completing their fire lines, conducting structure protection operations and mopping up."
She says fire lines consist mainly of wide swatches where bulldozers have cleared the dry vegetation, giving the fire nothing to feed on and preventing its spread.
Some residents who had been ordered out of their homes have been allowed to return home. Owners of homes destroyed by the flames were allowed in for a few hours for salvage work last night, but ordered to leave because electricity remains out to much of the area, Cook said.
Photo shows flames cresting over a hill as part of the out of control wild fires in Palo Pinto County, Texas April 19, 2011.
Credit:  Reuters, Tim Sharp
Article continues: http://www.reuters.com/article/2011/04/23/us-texas-wildfires-idUSTRE73K7WY20110423