Should the NRC really extend Indian Point Nuclear Power Plant license?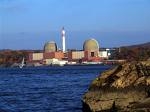 Lawmakers continue to call for the closure of a nuclear power plant less than 50 miles from New York City, despite the head of the U.S. Nuclear Regulatory Commission vouching for the plant's safety on a tour on Tuesday.
Nuclear Regulatory Commission Chairman Gregory Jaczko was unable to allay long-held concerns of New York lawmakers opposed to continued operation of the Indian Point nuclear station, concerns now heightened by Japan's recent nuclear accident.
Jaczko was invited to the nuclear plant to meet with U.S. Reps. Nita Lowey (D-New York) and Eliot Engel (D-New York) to discuss public safety issues involving the plant located on the shores of the Hudson River, just north of the nation's biggest metropolitan area.
Entergy Corp, the New Orleans-based owner of the two Indian Point reactors, is working to extend the units' operating licenses for 20 years. Without renewal, the units could shut in 2013 and 2015 when the original 40-year operating licenses expire.
Some state politicians and environmental groups have been fighting for decades to shut Indian Point, but have been stymied by federal regulators who say the plant is safe.
Since the March 11 earthquake and disaster that crippled Japan's Fukushima Daiichi nuclear station, relicensing of the 2,045-megawatt Indian Point plant and other U.S. reactors has become even more contentious.
New York politicians, including the state's Governor Andrew Cuomo and Attorney General Eric Schneiderman, have stepped up efforts to shut Indian Point.
The NRC staff is scrutinizing safety issues at all 104 U.S. nuclear reactors and is expected to give the first post-Fukushima report to commissioners later this week.
Jaczko told reporters the NRC will learn lessons from the Japanese disaster and make changes as needed. He said Indian Point meets all NRC standards. "Where there are problems, we will identify them and work to fix them," Jaczko said.
Among Lowey's top safety concerns are emergency evacuation planning and Indian Point's seismic characteristics.
Article continues: http://www.reuters.com/article/2011/05/10/us-usa-nuclear-ny-jaczko-idUSTRE7497DO20110510