Feral Camels Plague Australian Outback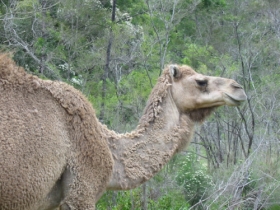 More than 1 million feral camels are thrashing the remote Australian desert, destroying water supplies and disturbing Aboriginal communities to the tune of 10 million Australian dollars a year.
As part of plans to contain the camel's havoc and reduce the animals' numbers, managers have launched a website, CamelScan, where the public can report feral camel sightings and damages using a Google maps-based tool.
"They can do enormous damage," said Jan Ferguson, managing director of Ninti One Limited, the organization that manages the Feral Camel Management Project, which launched CamelScan. "They can eat up to very high heights in our trees. When water is short, they go for running water. They will take pipes and air conditioning units off of walls, and smash up toilet systems."
The program adds another species to the list of programs tracking other feral animals in Australia, including rabbits, foxes and myna birds. Since CamelScan launched earlier this month, the public has logged nearly 150 sightings.
"You need to count these animals. You need to know where they are and what they're doing," said Ferguson.
The single-humped dromedary camels were brought mainly from India in the second half of the 19th century to work in the scrubby, red-earthed arid parts of the Australian outback, transporting people and as pack animals. Once trains, roads and machinery made them obsolete as workers, the camels were let loose, creating the world's only population of wild camels.
Article continues: http://news.discovery.com/animals/wild-camels-australia-outback-110517.html#mkcpgn=rssnws1
Photo credit: http://planetsave.com/2009/08/12/australia-plans-airstrikes-to-kill-650k-camels-in-outback/