Melting ice roads in Arctic could have big impact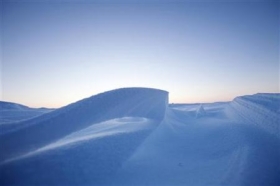 Higher temperatures have already led to lower summer sea ice levels in the Arctic and the melting has the potential to increase access for fishermen, tourists and oil and natural gas developers to coastal regions in coming decades.
The melting has also led to hopes that shorter Arctic shipping routes between China and Europe will open.
The Arctic is increasingly a region of deep strategic importance to the United States, Russia and China for its undiscovered resource riches and the potential for new shipping lanes. The U.S. Geological Survey says that 25 percent of the world's undiscovered oil and natural gas lies in the Arctic.
But the warming also will likely melt so-called "ice roads", the temporary winter roads developers now use to access far inland northern resources such as timber, diamonds and minerals, according to a study published on Sunday in the journal Nature Climate Change.
"It's a resource frontier where we don't even know what all is there and I'm beginning to think we never will," Lawrence Smith, a professor of geography at the University of California Los Angeles and a co-author of the study, said about the Arctic interior.
"These places are going to become wilder and the lands are going to be abandoned and revert to a wild state."
The ice roads, made famous by the History Channel show "Ice Road Truckers", are constructed on frozen ground, rivers, lakes and swampy areas using compacted snow and ice. They cost only about two to four percent of what permanent land roads would cost, making resource extraction more cost effective in these remote areas.
As the roads melt, indigenous populations could also face increased isolation and higher costs as some goods could only reach them via airplanes.
All eight countries that border the Arctic -- Canada, Finland, Greenland, Iceland, Norway, Russia, Sweden and the United States -- are expected to experience declines in winter-road land accessibility.
Russia will lose the most land suitable for winter road construction by area, followed by Canada and the United States, according to the modeling done in the study, which was supported by NASA's Cryosphere Program and the National Science Foundation.
Photo shows the sun setting over Arctic ice near the 2011 Applied Physics Laboratory Ice Station north of Prudhoe Bay, Alaska in this March 18, 2011 picture. Credit: Reuters/Lucas Jackson
Article continues: http://www.reuters.com/article/2011/05/29/us-arctic-warming-roads-idUSTRE74S1UF20110529