China's CO2 emissions rise sharply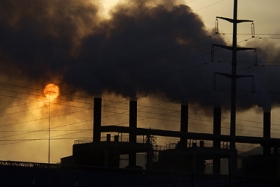 China's carbon dioxide emissions rose 10.4 percent in 2010 compared with the previous year, as global emissions rose at their fastest rate for more than four decades, data released by BP on Wednesday showed.
"All forms of energy grew strongly (last year), with growth in fossil fuels suggesting that global CO2 emissions from energy use grew at the fastest rate since 1969," energy major BP's annual Statistical Review of World Energy said.
The rapid growth is happening as U.N. talks look unlikely to agree on a legally binding deal to curb emissions and fight climate change before the existing Kyoto Protocol expires in 2012.
Global carbon dioxide emissions are widely seen as a major factor responsible for an increase in world temperatures.
They grew 5.8 percent last year to 33.16 billion tonnes, as countries rebounded from economic recession, BP said. China's emissions accounted for 8.33 billion tonnes.
The International Energy Agency estimated last month that global CO2 emissions rose by 5.9 percent to 30.6 billion tonnes in 2010, mainly driven by booming coal-reliant emerging economies.
BP data showed that China accounted for a quarter of global emissions. The United States was the second largest emitter, showing a 4.1 percent rise in emissions last year to 6.14 billion tonnes.
Chinese emissions have grown strongly in the past decade as the country built many new coal plants to power its economic growth.
It has become the world's largest energy consumer, overtaking the United States, growing by 11.2 percent compared to global growth of 5.6 percent.
Global coal consumption increased by 7.6 percent last year in its fastest growth since 2003, as industries began to recover from the global economic downturn.
Coal now accounts for 29.6 percent of global energy consumption, up from 25.6 percent 10 years ago, BP said.
Photo credit: Kadziolka, Jared, http://wiki.ubc.ca/Course:ECON371/UBCO2010WT1/GROUP6
Article continues: http://www.reuters.com/article/2011/06/08/us-energy-bp-emissions-idUSTRE75728120110608