Persuading Climate Change Doubters with "Cool It" Documentary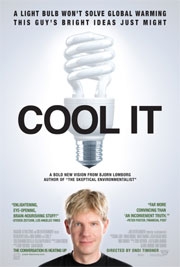 A new documentary, Cool It, may be able to help some of us in our quest to settle arguments about climate change. Most readers of this publication probably accept that climate change is a real phenomenon. But there are still people out there, usually politically charged, who think climate change is nonsense.
Although Cool It was released in theaters late last year, it recently screened at the Anthem Film Festival, part of FreedomFest 2011, in Las Vegas, NV – a libertarian gathering. It was a surprise to see such a pro environmental documentary given the leanings of this particular event.
Cool It assumes that global warming is real, but may not be as catastrophic as it is said to be. Furthermore, it critiques the fashionable plans of fixing the problem, namely cap and trade. Rather, Bjorn Lomborg is shown picking brains and brainstorming innovative ideas of how to stop and/or alleviate global warming.
Lomborg also has a different take on how climate change has been presented to the public. "Fear has been ruling the climate debate. It's about time that we realize the current approach is broken," says Lomborg. The FreedomFest crowd seemed a lot more receptive to Lomborg's approach than that of Al Gore's An Inconvenient Truth.
Article continues: http://www.triplepundit.com/2011/07/climate-change-cool-it-documentary/
Image credit: TriplePundit.com