Amazon drought and forest fire prediction system devised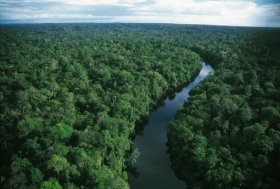 Researchers have devised a model to anticipate drought and forest fires in the Amazon rainforest.
The research, which used precipitation records dating back to 1970 and hotspots tracked by the Moderate Resolution Imaging Spectroradiometer (MODIS) aboard NASA satellites, finds a strong correlation between sea surface temperatures in the tropical North Atlantic and subsequent drought in the western Amazon. Drought in the Amazon is increasingly associated with forest fires due to land-clearing fires set by agricultural developers and cattle ranchers.
The researchers, led by Katia Fernandes of Columbia University, conclude that their model could be used to forecast drought up the three months in advance, giving authorities a window to alert ranchers and farmers about the increased risk of using fire to clear land during the dry season, which typically runs from July-September. Coupled with its existing satellite-based deforestation monitoring capabilities, the warning system could prove useful to Brazil as it aims to reduce deforestation rates under its national climate action plan.
The study, which is published in Geophysical Research Letters, comes on the heels of another paper, published in the same issue, that reports an increase in droughts in the Amazon.
That research — led by Jose Marengo of Brazil's National Institute for Space Research (INPE) — identifies the 2005 and 2010 droughts in the Amazon as the worst on record. It finds that since the mid-1970s droughts have increased in the Amazon region, while the length of the typical dry season has expanded. The study says droughts are "aggravated" when there was low rainfall in the previous wet season.
Article continues: http://news.mongabay.com/2011/0718-amazon_fernandes.html
Photo credit: http://www.worldculturepictorial.com/blog/content/sos-amazon-every-second-we-lose-15-acres-rainforests-once-covering-14-earth-land-surface-now