Scientists Report Dramatic Carbon Loss from Massive Arctic Wildfire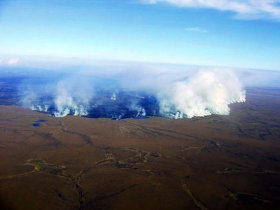 ScienceDaily (July 28, 2011) — In a study published in this week's issue of Nature, Marine Biological Laboratory (MBL) senior scientist Gauis Shaver and his colleagues, including lead author Michelle Mack of the University of Florida, describe the dramatic impacts of a massive Arctic wildfire on carbon releases to the atmosphere. The 2007 blaze on the North Slope of the Alaska's Brooks Mountain Range released 20 times more carbon to the atmosphere than what is annually lost from undisturbed tundra.
As wildfires increase in frequency and size along Alaska's North Slope, the team contends the disturbances may release large amounts of the greenhouse gas CO2 to the atmosphere and accelerate the transformation of the frozen, treeless tundra of today into a different kind of ecosystem less capable of storing carbon. Together, the impacts could have profound implications on atmospheric carbon and climate.
Arctic tundra landscapes store huge amounts of carbon in cool, wet soils that are insulated by a layer of permanently frozen ground, or permafrost. Fire has been almost nonexistent in Alaska's North Slope for thousands of years and the effect of fires on the carbon balance of tundra ecosystems is largely unknown. However, with warming temperatures over the past half-century, the climate in the region is in transition, spurring more thunderstorms, lightning, and wildfires.
In 2007 the Anaktuvuk River fire ravaged a 40-by-10 mile swath of tundra about 24 miles north of Toolik Field Station, where Shaver is the principal investigator of the NSF's Arctic Long-Term Ecological Research project. The blaze was the largest ever recorded in the region.
While the Anaktuvuk River fire scorched only upper soil layers that are about 50 years old, it caused the release of more than two million metric tons of CO2 to the atmosphere. This amount is similar in magnitude to the annual carbon sink for the entire Arctic tundra biome averaged over the last quarter of the twentieth century. According to Shaver and his colleagues, an Arctic regularly disturbed by fire could mean massive releases of CO2 into the atmosphere, a decrease in carbon stocks on land, and a rapid impact on climate.
Article continues: http://www.sciencedaily.com/releases/2011/07/110728162634.htm