Arctic open for exploitation: Obama administration grants Shell approval to drill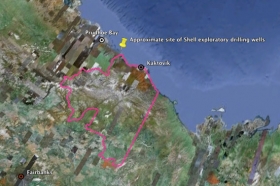 Less than a year and a half after the oil spill in the Gulf of Mexico, the Obama administration has bucked warnings from environmentalists to grant preliminary approval to oil giant, Royal Dutch Shell, to drill off the Arctic coast. Exploratory drilling will occur just north of the western edge of the Arctic National Wildlife Refuge (ANWR) in the Beaufort Sea, home to bowhead and beluga whales, seals, walruses, polar bears, and a wide-variety of migrating birds.
"This is a disaster waiting to happen," Holly Harris, an attorney with the environmental group Earthjustice, said in a press release.
Environmentalists and indigenous peoples living in the area have long fought drilling in the US Arctic arguing that extreme conditions make drilling especially precarious and an oil spill would be near-impossible to clean-up adequately. But, the Bureau of Ocean Energy Management, Regulation and Enforcement (BOEMRE) granted permission, pending Shell's completion of an oil spill response plan.
Admiral Robert Papp, top officer with the US Coast Guard, admitted last month that if a spill occurred in this area, the Coast Guard lacks the infrastructure and equipment needed to deal with a spill.
"If this were to happen off the North Slope of Alaska, we'd have nothing," said Papp, as reported by Platts. "We're starting from ground zero today."
However, Shell has stated that it has 'the best oil-spill response plan anywhere in the world', and that it is ready for any problem. The company has already invested more than $3.5 billion to drill in the Arctic ocean. The drill sites in the Beaufort Sea will take place 20 miles off shore in 160 feet deep water, which Shell says would allow divers access to the wells if need be. In the midst of its victory in the Arctic, Shell is expected to pay $1 billion to clean up decades of oil pollution in Nigeria, where a new UN report found that the company did not live up to its own, or the Nigerian government's, standards. Shell admitted last week to spilling 11 million gallons of oil in Nigeria in 2008.
Article continues:http://news.mongabay.com/2011/0808-hance_shell_arctic.html
Image credit: Mongabay.com