BrightSource Glad to See Carbon "Tax" Down Under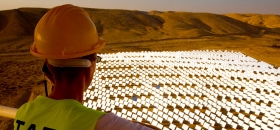 Israel's BrightSource Energy is among the large-scale solar developers happy with the Australian government's new carbon "tax" that was just carefully shepherded through parliament by Prime Minister Julia Gillard despite the sort of astroturfing hysteria normally perpetrated only in American media.
Two new agencies will handle clean energy investment, the Australian Renewable Energy Agency and the Clean Energy Finance Corporation. While details of the funding package are still being finalised, utility-scale clean energy projects will most likely be able to access loan guarantees and equity investments through the bank.
The success of loan guarantees have been proven says Andrew Dyer, the Australian director for BrightSource Energy, which has shown itself to be adept at leveraging loan guarantees in the US and in skillfully maneuvering its utility scale solar plants through the regulatory minefields of environmental stumbling blocks put in the way of clean energy in the US – while somehow leaving the real polluting energy unmolested.
In addition, Dyer suggests that the Australian government help the new clean energy industry get started by providing assistance in navigating the planning processes, and by creating the legislation that will allow clean energy companies to sign power purchase agreements with utilities.
The Australian legislation Gilliard passed last month is commonly referred to as a carbon tax, but it is actually a cap and trade plan.
Article continues: http://www.greenprophet.com/2011/08/brightsource-glad-carbon-tax-australia/
Image credit: http://www.brightsourceenergy.com/