Tropical Storm Irene strengthening in the Caribbean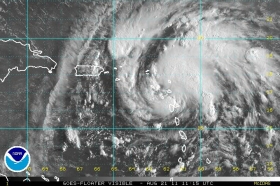 Tropical Storm Irene formed east of the Leeward Islands on Saturday and was expected to become a hurricane in the next two days heading on a northwestward track through the Caribbean that may threaten Florida.
At 11 p.m. (0300 GMT), Irene, the ninth named storm of the 2011 Atlantic hurricane season, was packing winds of 50 miles per hour and was about 95 miles east of Dominica, approaching the Leeward Islands, the U.S.-based National Hurricane Center said.
Tropical storm warnings were issued for many of the Leeward Islands, the Virgin Islands, Puerto Rico and the south coast of Dominican Republic, the center said after a U.S. Air Force Reserve "hurricane hunter" aircraft investigated the storm.
"Some strengthening is forecast during the next 48 hours and Irene could become a hurricane on Monday," the NHC said.
"Hurricane conditions are possible over the Dominican Republic by late Monday with tropical storm conditions possible by Monday afternoon," the Miami-based center added.
It would be the first hurricane of the so far busy, but to date not destructive, 2011 Atlantic hurricane season.
Computer forecast models showed Irene taking a northwestward path over Haiti and eastern and central Cuba and then heading up the western side of the Florida peninsula.
Depending on its eventual path and possible turns, Irene might still pose a threat to U.S. oil and gas installations in the Gulf of Mexico, but forecasters say it is too early to predict with certitude.
The NHC said that if Irene avoided land and stayed over warm Caribbean waters, conditions would be favorable for its strengthening. "Almost all the guidance shows Irene becoming a hurricane in a day or two," it added.
Image courtesy NOAA.
Article continues: http://www.reuters.com/article/2011/08/21/us-storm-irene-idUSTRE77K01820110821