Irene strengthens to hurricane over Puerto Rico, takes aim on Florida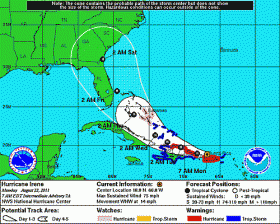 Hurricane Irene formed over Puerto Rico early on Monday, with maximum sustained winds of 75 miles per hour, becoming the first hurricane of the 2011 season.
The ninth named storm of the season, Irene remained on a course that could take it to Florida later in the week, forecasters at the U.S. National Hurricane Center said.
Irene was located about 25 miles west of San Juan and about 125 miles east of Punta Cana in the Dominican Republic as of 5 a.m. EDT.
A hurricane warning was issued for Puerto Rico, Vieques and Culebra and a hurricane watch was issued for the north coast of Haiti from Le Mole, St. Nicholas eastward to The Dominican Republic border and the central Bahamas, the NHC said.
The center of the storm will move off the north coast of Puerto Rico early Monday and move near or over the northern coastal regions of The Dominican Republic later in the day.
"We have to take this seriously," Puerto Rico Governor Luis Fortuno said Sunday evening.
Irene was moving west-northwest. It was a large category 1 storm and conditions were deteriorating over northern and eastern Puerto Rico, forecasters said.
The storm was expected to weaken later Monday as it moved over the Dominican Republic, then strengthen again on Tuesday as it emerged over water and moved toward the Bahamas.
Irene pelted the Leeward Islands with heavy rain and squalls as it crossed from the Atlantic Ocean into the northeastern Caribbean Sea on Sunday.
Tropical storm watches and warnings were also in effect for all of Haiti, U.S. Virgin Islands, British Virgin Islands, the southeastern Bahamas and the Turks and Caicos islands.
Puerto Rico lifted a ban on Sunday morning shopping, allowing stores to open so residents could stock up on canned food, bottled water and other necessities. Prices were frozen and alcohol sales were halted until after the storm passes.
Image shows forecast path of Irene from today to Saturday.  Credit: National Hurricane Center, NOAA.
Article continues: http://www.reuters.com/article/2011/08/22/us-storm-irene-idUSTRE77K01820110822