Irene!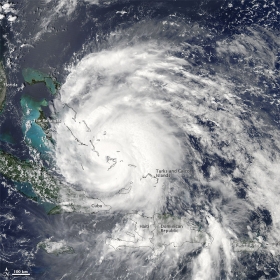 Hurricane Irene strengthened on its path toward the continental United States in late August 2011. This is a relatively rare hurricane that threatens all of the US east coast. Residents of the U.S. East Coast braced for the first hurricane to seriously threaten the country in three years. The Moderate Resolution Imaging Spectroradiometer (MODIS) on NASA's Aqua satellite captured this natural-color image at 2:15 p.m. local time (18:15 UTC) on August 24. Storm clouds hide the Turks and Caicos Islands, and extend westward over The Bahamas. Clouds also linger over the Dominican Republic and Haiti. The U.S. National Hurricane Center (NHC) reported that Irene was a Category 3 hurricane with maximum sustained winds of 120 miles (195 kilometers) per hour.
On Thursday morning, August 24, a hurricane warning is in effect for the central and northwestern Bahamas. The National Hurricane Center (NHC) has also issued the first watch for the U.S. east coast. A hurricane watch is in effect for north of Surf City, North Carolina to the North Carolina-Virginia border including the Pamlico, Albemarle, and Currituck Sounds. A tropical storm watch is in effect for north of Edisto Beach, South Carolina to Surf City North Carolina.
NASA satellites are flying above Hurricane Irene, providing forecasters at NHC with temperature, pressure, wind, and cloud and sea surface temperature data. All of those things are critical in helping forecasters determine how Irene will behave and track.
By 11 a.m. EDT on August 25, Irene had moved north and was 75 miles (105 km) east-northeast of Nassau near 25.9 North latitude and 76.8 West longitude. Irene's winds dropped slightly from 120 mph (195 kmh) to 115 mph (kmh) and it was moving to the north-northwest near 13 mph (20 kmh). The NHC, however, noted that some further strengthening is possible today and tonight.
It is possible that Irene might reach as high as New Jersey. The last time that happened was in 1960 with Donna.
Hurricane Donna in the 1960 Atlantic hurricane season was a Cape Verde-type hurricane which moved across the Leeward Islands, Puerto Rico, Hispanola, Cuba, The Bahamas, and every state on the East Coast of the United States. Hurricane Donna holds the record for retaining major hurricane status (Category 3 or greater on the Saffir-Simpson Hurricane Scale) in the Atlantic Basin for the longest period of time. For nine days, September 2 to September 11, Donna consistently had maximum sustained winds of at least 115 mph (185 km/h).
For further information: http://earthobservatory.nasa.gov/NaturalHazards/view.php?id=51867&src=nhrss