Hurricane Irene batters shuttered New York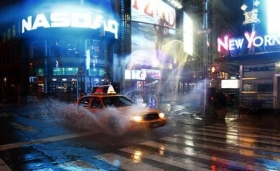 Hurricane Irene battered New York with heavy winds and driving rain on Sunday, knocking out power and flooding some of Lower Manhattan's deserted streets even as it lost some of its strength.
Irene was downgraded to a tropical storm on Sunday morning but was still sending waves crashing onto shorelines and flooding coastal suburbs.
There was about a foot of water in the streets at the South Street Seaport in Lower Manhattan and the tide seemed to be rising, although there was less damage than many had feared.
"It's not bad as we they said it would be. The streets are flooded but not as bad as I thought," said John Harris, 37, who defied an evacuation order and stayed home overnight in the Rockaways. "But I'm going to keep my eye on it. I know how to get out of here if I have to."
Heavy rains and wind forced the closure of three bridges leading to the Rockaways peninsula facing the Atlantic Ocean, and further east on Long Island sand berms built to hold off the flooding and protect coastal businesses appeared to have failed.
Irene was blamed for at least nine deaths in North Carolina, Virginia and Florida as it headed up the East Coast. About 3.3 million homes were without electricity and several million people were under evacuation orders.
New York City's normally bustling streets were eerily quiet after authorities ordered tens of thousands of residents to evacuate low-lying areas and shut down its subways, airports and buses.
Forecasters said Irene still posed a serious threat of storm surge that could raise water levels by as much as 4 to 8 feet in coastal areas from Virginia to Massachusetts. Isolated tornadoes in the New York area were possible.
The storm dumped up to eight inches of rain on the Washington region, but the capital appeared to have avoided major damage. Some bridges were closed but airports remained open and transit operated on a normal schedule.
Rick Meehan, mayor of Ocean City, Maryland, said initial assessments showed flooding and continuing power outages in some areas of the seaside resort, but not much damage.
"It looks like we dodged a missile on this one," Meehan told the local Fox News station, WBOC News.
Photo shows a taxi speeding by on 42nd Street at Times Square in New York as rains fall before Hurricane Irene hits August 27, 2011.
REUTERS/Peter Jones
Article continues: http://www.reuters.com/article/2011/08/28/us-storm-irene-idUSTRE77K01820110828