Belgian Company Leads the Way In Landfill Mining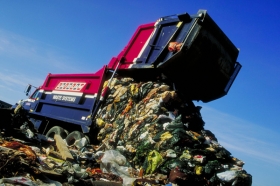 Landfill mining is a rapidly growing area of waste management that is proving to be extremely profitable. About 50 miles east of Brussels, at Houthalen-Hecteren lies the Remo Milieubeheer landfill which dates back to the 1960s. It consists of industrial waste, household garbage and other things that landfills normally have – basically 16.5 million tons of trash.
Group Machiels, a Belgian waste management company owns the site and it has a 20-year plan to excavate the entire area. This will result in about 45% of its contents being recycled and the rest will be converted to electricity. The project which will become operational by 2014, is thought to be the first of its kind in the world. Group director Patrick Laevers explains that after a complex, multi-phase process the site will be turned back to nature. He calls this "Closing the Circle" and hopes that many such projects can be adopted in other parts of the world.
Fast Company reports that the group first started landfill research with three academic partners in 2006. They collected 2000-3000 tons of material for testing, assessing each area of the site for recycling and energy-generation value. The group has formed a joint venture with Advanced Plasma Power, a U.K. based energy-to-waste company. Advanced Plasma converts non-recyclable material into clean-burning natural gas. This generates electricity for 100,000 homes and the residue is converted into a building material called Plasmarok.
Not only can material from landfills be reclaimed for recycling and energy generation but the reclaimed land can be used for property development. The OECD says 3 billion tons of trash a year will be hitting landfills worldwide by 2030, up from 1.6 billion in 2005, although reliable statistics about volume of waste in landfills is hard to come by.
Article continues: http://www.triplepundit.com/2011/09/belgian-company-leads-landfill-mining/