Virgin Atlantic Airways to Use Industrial Waste as Jet Fuel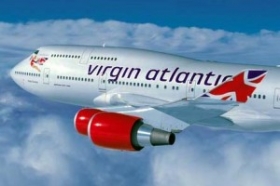 Always on the cutting edge, Sir Richard Branson, president of Virgin Atlantic, has set his company on a course towards further sustainability. Virgin Atlantic Airways has announced plans to fly commercial routes on a waste-based, synthetic gas fuel rather than typical jet fuel. The reconstituted fuel will produce half the carbon emissions. The technology making this possible was developed by LanzaTech and Swedish Biofuels. Test flights with the new fuel will commence in New Zealand within the next 18 months. The first commercial flights are expected to begin in China by 2014.
The synthetic fuel will derive from captured and chemically treated gas waste from industrial steel mills. This will be converted into ethanol, which can then be converted into jet fuel. New Zealand-based biotech company, LanzaTech, believes that this process will be able to utilize gas waste from 65 percent of the world's steel mills.
LanzaTech technology will be instrumental in capturing the waste gas and turning it into ethanol. The waste gases emitted from blast furnaces and other steel mill operations contains carbon monoxide. The CO containing gas goes into a bioreactor and is dispersed into a liquid medium. It is then consumed by microbes which produce the ethanol. Then Swedish Biofuels technology will chemically convert the ethanol into jet fuel. It produces a fully synthetic, 100% biological aviation fuel.
This new process for creating ethanol will likely relieve the great strain being put upon agriculture, if it proves to be commercially scalable. If the test flights go well, the fuel will be implemented in the UK and all over the world. Virgin Atlantic plans its initial commercial flights to be between Shanghai and Delhi to London Heathrow Airport.
Virgin Atlantic believes this next-generation technology will help deliver on its pledge to reduce carbon emissions by 30 percent per passenger km by 2020. It goes along with other investments the company has made such as using more fuel-efficient aircrafts and supporting a global cap and trade system.
"We were the first commercial airline to test a bio-fuel flight and we continue to lead the airline industry as the pioneer of sustainable aviation," said Sir Richard Branson. "This partnership to produce a next generation, low-carbon aviation fuel is a major step towards radically reducing our carbon footprint, and we are excited about the savings that this technology could help us achieve. With oil running out, it is important that new fuel solutions are sustainable, and with the steel industry alone able to deliver over 15 billion gallons of jet fuel annually, the potential is very exciting. This new technology is scalable, sustainable and can be commercially produced at a cost comparable to conventional jet fuel."
For more information: http://www.lanzatech.co.nz/sites/default/files/imce_uploads/virgin-lanzatech_partnership.pdf
Image credit: http://www.vosizneias.com/26801/2009/02/02/london-virgin-air-to-us-airways-heroic-pilot-come-fly-our-planes/