Earthquakes in Mid America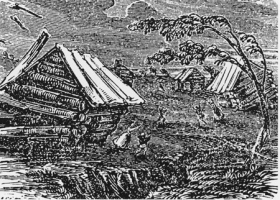 Between Little Rock, Ark., and Memphis, Tenn., scientists have found evidence of an earthquake source capable of magnitude 7 or greater earthquakes located at the southwestern end of the ancient Reelfoot Rift. This is the same geologic structure that hosts the New Madrid seismic zone which is responsible for the major earthquakes that occurred in the midcontinent almost 200 years ago. The geologic proof includes large, visible sand blows formed by strong ground shaking, and subsurface geophysical imaging of faulting nearby. Field observations and radiocarbon dating suggest that the sand blows formed as the result of two to four earthquakes between 4,800 and 10,000 years ago.
The 1811-1812 New Madrid Earthquakes (pronounced /nuː ˈmædrɨd/) were an intense intraplate earthquake series beginning with an initial pair of very large earthquakes on December 16, 1811. These earthquakes remain the most powerful earthquakes ever to hit the eastern United States in recorded history. These events, as well as the seismic zone of their occurrence, were named for the Mississippi River town of New Madrid, then part of the Louisiana Territory, now within Missouri.
There are estimates that the earthquakes were felt strongly over roughly 50,000 square miles, and moderately across nearly 1 million square mile. The historic 1906 San Francisco earthquake, by comparison, was felt moderately over roughly 6,200 square miles.
As part of the Eastern Section of the Seismological Society of America meeting in Little Rock, Oct. 17-18, scientists from around the world will examine this new evidence of the prehistoric earthquakes exposed in a trench that was excavated across one of the prominent sand blows. Geological techniques used to map sand blows, feeder dikes, and related ground failure to characterize faulting will also be shared.
In 2011 and 2012, there will be events held throughout the central United States observing the 200th Anniversary of the great 1811 and 1812 New Madrid earthquakes that forever changed the mid-western landscape. Organizations from across the United States will participate in the bicentennial events, which range from conferences, workshops, public outreach events, multi-state earthquake exercises, field trips, and more. Organizers of the New Madrid Bicentennial events (NMB) are already planning many activities.
For further information: http://www.usgs.gov/newsroom/article.asp?ID=2998&from=rss&utm_source=feedburner&utm_medium=feed&utm_campaign=Feed%3A+UsgsNewsroom+%28USGS+Newsroom%29&utm_content=Google+Reader 
Photo: http://en.wikipedia.org/wiki/File:New_Madrid_Erdbeben.jpg