UN Climate Chief warns Science, not politics must drive Durban climate talks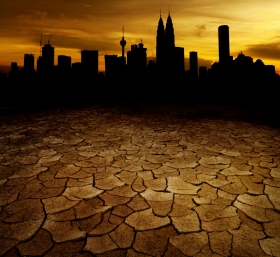 Global climate talks need to focus on the growing threat from extreme weather and shift away from political squabbles that hobble progress toward a tougher pact to rein in greenhouse gas emissions, the head of the U.N. climate panel said.
Negotiators from nearly 200 countries meet in Durban, South Africa, on Monday for two-week talks, with minimal expectations of major progress toward an agreement that will eventually bind all major economies to emissions caps.
Rajendra Pachauri warned the latest round of talks risked being bogged down by "short-term and narrow political considerations."
"It is absolutely essential that the negotiators get a continuous and repeated exposure to the science of climate change," Pachauri told Reuters in an interview late on Tuesday.
"If we were to do that it will definitely have an impact on the quality and outcome of the negotiations, after all these are human beings, they have families, they are people also worried about what is going to happen to the next generations."
Pachauri heads the U.N.'s Intergovernmental Panel on Climate Change, which issued a report for policymakers on Friday saying an increase in heat waves is almost certain, while heavier rain, more floods, stronger cyclones, landslides and more intense droughts are likely across the globe this century.
"I am afraid the way the whole thing is structured loses sight of these realities," Pachauri said of the talks.
The report comes after a year of costly weather disasters, from floods in Thailand to a string of multi-billion dollar disasters in the United States that have killed hundreds.
At best Durban is expected to result in modest steps toward a deal to lower emissions from factories, power stations and transport that scientists say are heating up the planet.
The negotiations have become a battleground between rich and poor nations on the question of how much cuts in greenhouse gases each should take, with developing countries insisting they should be allowed to emit more to grow out of poverty.
Image credit: Shutterstock, szefei
Article continues: http://www.reuters.com/article/2011/11/23/us-climate-pachauri-idUSTRE7AM0RJ20111123?feedType=RSS&feedName=environmentNews&utm_source=feedburner&utm_medium=feed&utm_campaign=Feed%3A+reuters%2Fenvironment+%28News+%2F+US+%2F+Environment%29&utm_content=Google+Reader