Walnut Trees Survival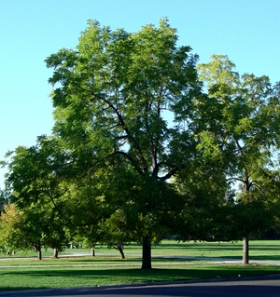 Walnut trees are deciduous,30–130 feet of the species Juglans. The 21 species in the genus range across the north temperate Old World from southeast Europe east to Japan, and more widely in the New World from southeast Canada west to California and south to Argentina. Warmer, drier summers and extreme weather events considered possible as the climate changes would be especially troublesome - possibly fatal - for walnut trees, according to research at Purdue University.
Over five years, Douglass Jacobs, a professor of forestry and natural resources, and Martin-Michel Gauthier, a former doctoral student under Jacobs who is now a research scientist in the Ministry of Natural Resources in Quebec, studied the physiology of walnut trees, which are economically significant in Indiana for their lumber and veneer, and in other areas for their nuts. They found that the trees are especially sensitive to particular climates.
"Walnut is really restricted to sites not too wet or dry. It has an extremely narrow range," said Jacobs, whose findings were published in the December issue of Annals of Forest Science. "We suspect and predict that climate change is going to have a real impact on walnuts. We may see some type of decline of the species."
Specifically, walnuts would have difficulty tolerating droughts that could be associated with a changing climate.
Walnuts are also sensitive to cold, so much so that they have developed a defense mechanism against late frosts. Jacobs said walnut trees don't begin sprouting leaves until almost a month after other trees in the spring.
That defense mechanism could be compromised by extreme weather events associated with climate change scenarios. Late spring frosts after walnuts have developed leaves could kill trees.
Walnut trees are prized for their rich flavored nuts as well as valuable hardwood. The rich flavored nuts are enjoyed fresh and retain their flavor and texture during cooking.
They have fragrant leaves and prefer deep, rich, well-drained soil while growing more slowly in drier soils.
In California, more than 500,000 tons of walnuts were sold for more than $1 billion in 2010, according to the U.S. Department of Agriculture.
In Indiana, black walnuts are prized for their wood. Charles Michler, project leader of Purdue's Hardwood Tree Improvement and Regeneration Center, said walnuts accounted for as much as 15 percent of the logs sold in Indiana at a value of about $11 million.
One goal is to find walnut trees that may be able to stand up to the heat or cold stresses that the trees could be subject to in a changing climate. 
For further information: http://www.purdue.edu/newsroom/research/2011/111128JacobsWalnut.html
Photo: http://www.tree-pictures.com/walnut34.jpg