On the edge of extinction, giant ibis discovered in new region of Cambodia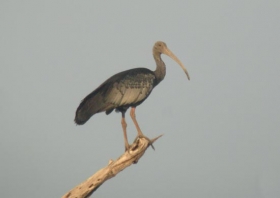 The world's largest ibis, and one of the world's most endangered birds, has received some good news. A giant ibis (Thaumatibis giganteawas) has been photographed in the Kampong Som Valley in Koh Kong Province in Cambodia, the first record from this province in nearly a hundred years. Adults can grow to reach nearly 3.5 feet (106 centimeters) long.
The bird was captured by camera trap—an automated camera that uses infrared to snap photos of cryptic wildlife—by the NGO Wildlife Alliance. Listed as Critically Endangered by the IUCN Red List, the species is believed to be down to only around 100 breeding pairs. Most of these live in Cambodia, although a few may survive in Laos and Vietnam.
Wildlife Alliance writes that Kampong Som Valley "is an amazing ecosystem of flooded grasslands, wetlands, small lakes and a wide river mixed with regenerating deciduous and semi evergreen forest. This area of low population density and low human interference has been protected by the Cambodian Forestry Administration and Wildlife Alliance for the last 10 years with the strategic objective of maintaining and restoring the corridor link between the western and eastern forest bodies of the Southern Cardamom Mountains."
The organization now plans to survey the area for giant ibises to determine if the valley is home to a breeding population. The giant ibis is threatened by hunting, deforestation, and the draining of wetlands. It may also depend on small pools created by megafauna, such as elephants, which have vanished from much of Southeast Asia. The giant ibis appears to be particularly sensitive to human presence.
Article continues: http://news.mongabay.com/2011/1206-hance_giantibis.html
Image credit: James Eaton/Birdtour Asia