Weather experts warn of second huge storm to hit length and breadth of UK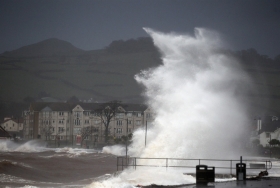 A second hurricane-strength storm is heading for the UK and this time the entire country looks set to suffer.
Forecasters say the next severe storm is now brewing in the North Atlantic and will bring with it cold air, snow and sleet as well as hurricane-strength winds from Monday evening.
They say next week's massive storm will affect the whole of the UK and will last through the whole of Tuesday and into Wednesday.
Weather experts say they cannot officially classify the storms as hurricanes because the severe weather systems have a cold core instead of a warm core, but the wind speeds are the same and they still carry the same destructive power.
Weather expert Tim Ballisty, a meteorologist at weather.com, said: "There are two main computer models that we use to forecast the weather and both are showing an intense area of low pressure that will swing in across the North Atlantic on Monday, last all day Tuesday and into Wednesday."
Tim described how the huge weather system will "stall out" over the UK and the forecasts show the area of low pressure, that brings severe winds and rain, will deepen and intensify across the whole of the UK and across to the west coast of France.
He explained: "What is interesting about this next storm is that the huge weather system that slammed into Scotland on Thursday was very constrained, its damage was limited to Scotland.
"However, next week's storm looks likely to cover the whole of the UK, it is tremendously wide and has a much broader scope to it.
"The winds may not be nudging 150mph again but it will certainly produce the same destructive power as Thursday's storm."
Article continues: http://www.clickgreen.org.uk/news/national-news/122921-weather-experts-warn-of-second-hurricane-force-storm-heading-for-whole-of-uk.html
Image credit: Jeff J Mitchell/Getty Images