Romanian Drought, Power, Crops and Survival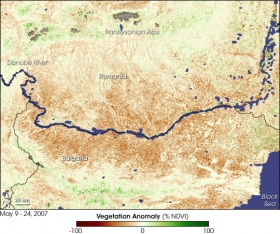 The Danube runs from Germany to the Black Sea. It is a long river with many countries on it. Now it is running low due to drought. It has run low before around 2007 most recently. It threatens people, crops, and even nuclear reactors. The nuclear power plant in Cernavodă is the only nuclear power plant in Romania. It produces around 20% of the country's electricity. It uses CANDU reactor technology using heavy water produced at Drobeta-Turnu Severin as its neutron moderator and water from the Danube – Black Sea Canal for cooling.
In 2003 the drought in Romania was so severe that it led to the shutdown of one of the Cernavoda reactors. Cantemir Ciurea, director of the National Committee for Controlling Nuclear Activities, said: "We immediately put in place a new system that allowed the pumps to extract the cooling water from much lower levels."
The Romanian authorities have not, however, discounted the possible closure of a reactor if the present drought persists.
Early this month, the Danube's flow rate in Turnu-Severin, a town in southwest Romania, home to the country's largest hydroelectric power plant, was 2,400 cubic meters per second, 63% of the usual average of 3,800 cubic meters per second. Hidroelectrica, the public corporation in charge of delivering the energy produced by the plant, is generating only 1,800MW  instead of the usual 2,100 MW. So it is not just nuclear but hydroelectric power that is threatened.
Power supplies are also running low in Serbia, drinking water shortages have hit Bosnia, and crop production is in jeopardy in Romania, Bulgaria and Hungary. The Czech Republic is at its driest since records began in 1775.
Meteorologists say they are not sure why the region has had far less rain than average since August - but they don't see any more coming quickly.
Sunken German World War II-era ships have surfaced on the Danube and unexploded bombs that fell during the 1940s emerged from the Sava river (a major tributary) in Serbia.
The waters of the mighty Danube are so low that dozens of cargo ships are simply stuck, stranded in ghostly fog or wedged into sand banks on what is normally one of eastern Europe's busiest transport routes.
For further information: http://www.guardian.co.uk/world/2011/dec/13/drought-in-romania-threatens-danube-power
Photo: NASA