Geospatial initiative shows the way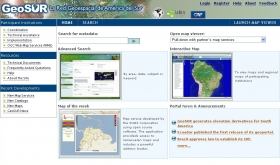 GeoSUR, a Latin American and Caribbean (LAC) open access and web-based initiative for geospatial data-sharing, has received a boost at the Eye on Earth Summit in Abu Dhabi (12-15 December).
The conference "Networks of Networks" working group accepted GeoSUR — one of the first such regional networks in the developing world — as a "case model".
"This could help to use the lessons we learned as a starting point to build similar networks in other developing regions," Eric Van Praag, coordinator of GeoSUR, told SciDev.Net.
"We can help kickstart a network like this in other parts of the world and probably get some funding or support," explained Van Praag.
Established in 2007 by the Development Bank of Latin America (CAF) — a multilateral financial institution that supports sustainable development and comprises 16 LAC countries, Spain and Portugal and 14 private regional banks — the initiative is the first portal to offer access to spatial information for all the countries of the region in one place.
The information is generated by more than 60 participating LAC agencies from — ministries, research centres, nongovernmental organisations (NGOs), geographical institutes and private companies — and includes regional base maps; infrastructure, land use, land cover and protected area maps; and aerial imagery.
Article continues: http://www.scidev.net/en/agriculture-and-environment/eye-on-earth-summit/news/geospatial-initiative-shows-the-way-.html
Image credit: GeoSUR