Chevrolet Carbon Stories: San Juan National Forest tree planting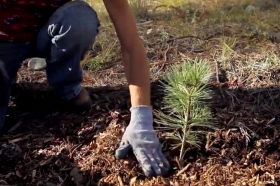 Whenever you take a breathe, you are breathing in 1/3 more carbon dioxide than your grandparents did. That's a significant increase in just two generations. Now imagine a forest. In one year, an acre of forest absorbs 6 tons of carbon dioxide and emits 4 tons of oxygen.
In 2003, the San Juan National Forest suffered a major fire that effectively destroyed and deforested large sections of land in Colorado. The US Forest Service does not plan to replant the burned areas, and this land is not likely to be naturally reforested. In conjunction with the US Forest Service, the National Forest Foundation and local activists with the help of Chevrolet have actively begun to reforest a portion of the burned land with newly planted trees. Along with replanting the forest, this is a great project for its ecological benefits such as restoring habitat, as well as for the local economy.
!videohttp://s3.amazonaws.com/ENN-Video/GM_SANJUAN_V111_WEB.flvvideo!
Over the next few years, Chevrolet will be investing in projects that will help reduce up to 8 million metric tons of carbon dioxide from the atmosphere. Every carbon-reducing project Chevrolet invests in will be based in the United States, and each will be focused in one of three areas: renewable energy, energy efficiency programs, and forestry (including conservation). Chevrolet has chosen projects they believe will make a lasting difference in communities across the country. Progress is already underway, and Chevrolet estimates it will take up to five years to achieve the initial goal. There's still a lot of work to be done, but every project is a step in the right direction.
Please visit the Chevrolet.com Carbon Stories page to learn more about their Carbon Initiative, the projects they are supporting, and monitor their progress. You can also participate in the Chevy Tree Project on Facebook. When you plant a virtual tree on your Facebook page, Chevy will plant a real tree in a US National Forest–up to 175,000 trees.