EPA Report Identifies Toxic Contamination in Communities Across the Country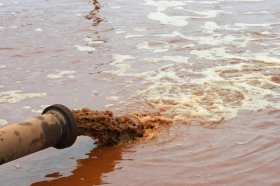 Yesterday, the US Environmental Protection Agency (EPA) released its annual report of the Toxics Release Inventory (TRI). The TRI consists of information on toxic chemical disposals and toxic air emissions, as well as waste management and pollution prevention activities. The EPA report covers neighborhoods all across the United States for the year 2010. Many of the facilities identified in the TRI are regulated by the EPA and state agencies through various programs such as the Resource Conservation and Recovery Act (RCRA) and Community-Right-to-Know (CRTK). Total toxic releases for 2010 were higher than the previous two years, but lower than 2007 and 2006.
The goal of the TRI report is to inform citizens of what toxic chemicals are being released into their communities. The data is used by city planners and public health officials to determine where and how to appropriate funding and manpower.
"We will continue to put accessible, meaningful information in the hands of the American people. Widespread public access to environmental information is fundamental to the work EPA does every day," said EPA Administrator Lisa P. Jackson. "TRI is a cornerstone of EPA's community-right-to-know programs and has played a significant role in protecting people's health and the environment by providing communities with valuable information on toxic chemical releases."
The following are some highlights from the 2010 TRI report:
- Releases into the air decreased 6 percent from the previous year, continuing a trend over the past several years.
- Releases into water increased 9 percent from the previous year.
- Releases onto land increased 28 percent from the previous year.
- Nationwide, 3.93 billion pounds of toxic chemicals were released into the environment, up 16 percent from 2009
- The increase in toxic releases is mainly due to changes in the metal mining sector. Even minor changes in the chemical composition of the ore being mined can have a great impact on total releases.
- Other minor causes for the increase were caused by the chemical and primary metals industries.
The EPA takes seriously its role in informing the public of toxic chemicals in their areas. It goes to the heart of its relatively new push for greater environmental justice, protecting poor communities from greater environmental burden. Citizens are free to look up this data which is in the public domain. EPA has even created a mobile application, myRTK, for accessing the TRI data.
Link to the EPA 2010 Toxic Release Inventory Analysis: http://www.epa.gov/tri/NationalAnalysis/index.htm
Image credit: WvdM/Shutterstock