NASA GISS Identifies 14 Air Pollution Control Measures to Slow Global Warming, Improve Health and Increase Crop Yields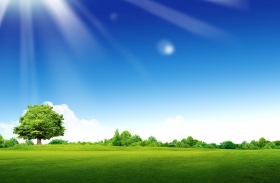 Fourteen air pollution control measures, if implemented today, could not only slow the pace of global warming, according to an intensive study by NASA's Goddard Institute for Space Studies (GISS), but also improve health and boost agricultural productivity. All regions of the world would benefit as a result, NASA found, but the biggest health and agricultural gains would be realized in Asia and the Middle East as a result of greenhouse (GHG) emissions reductions.
The GHG pollution measures center on methods of reducing emissions of methane (CH4) and black carbon particulates (soot). While increasing volumes of carbon dioxide (CO2) emitted into our atmosphere is the primary agent of the greenhouse effect and the long-term global warming trend, the NASA GISS research team found that reducing emissions of methane and black carbon "are complementary actions that would have a more immediate impact because these two pollutants circulate out of the atmosphere more quickly," according to a project summary on NASA GISS' website that comes with several, unique interactive explanatory features.
"Protecting public health and food supplies may take precedence over avoiding climate change in most countries, but knowing that these measures also mitigate climate change may help motivate policies to put them into practice," NASA GISS research team leader Drew Shindell stated.
"The scientific case for fast action on these so-called 'short-lived climate forcers' has been steadily built over more than a decade, and this study provides further focused and compelling analysis of the likely benefits at the national and regional level," added United Nations Environment Program (UNEP) executive director Achim Steiner.
Article continues: http://globalwarmingisreal.com/2012/01/17/nasa-giss-identifies-14-air-pollution-control-measures-to-slow-global-warming-improve-health-and-increase-crop-yields/
Image credit: PedroVieira/Shutterstock