Is There a Future in Solar Boats?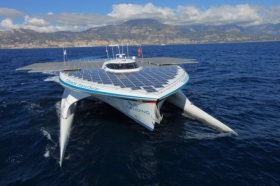 One of the highlights of this year's World Future Energy Summit in Abu Dhabi was a tour of Planet Solar's incredible solar powered yacht – the Turanor. The largest solar powered boat ever to set sail, the Turanor is on the final leg of a round-the-world tour, the first time anyone has managed to sail around the world powered entirely by solar energy. The massive 8.5 ton boat comfortably carries a crew of a half dozen or so with plenty of room to host a dockside party for 100. It cruises comfortably at 5 knots but is capable of double that speed on particularly good days as it cuts through the waves with its knife-like design. Most impressive – the boat can can store as much as 3 days worth of sailing power in a huge rack of lithium ion batteries – thus allowing it to sail in the dark of night without a hitch.
Swiss founder Raphaël Domjan conceived of the project as a way of proving what's possible with today's technology in terms of clean transportation powered by the sun. TreeHugger's Brian Merchant captured the vision on video here. The realities of price (the boat cost at least $20 million to develop) will likely prevent it from turning up at your local yacht club any time soon, but the many investors and sponsors in the project are already reaping ROI in terms of concepts proved, ideas tested, and lessons learned. Additionally, the media buzz generated in each of dozens of ports along the journey have brought priceless interest in solar technology from sailors and landlubbers alike.
For example, the Plant Solar team developed their own software for using weather data to steer the boat into optimally sunny areas, avoiding clouds – a potentially useful tool for future solar mariners. Additionally, neither the solar panels nor batteries suffered significant wear from salt or water. Never once in thousands of miles has the boat had to turn on its diesel back up – in fact the only reason the diesel is on board is to satisfy insurance desires.
The immediate applications for a boat of this type are likely luxury cruisers, and that is likely where the prototype will be sold while a new, improved version is developed to test still more technology.
Article continues: http://www.triplepundit.com/2012/01/future-solar-boats-planetsolar-turanor/
Image credit: Planet Solar