Fascinating ancient Sahara site celebrated for World Wetlands Day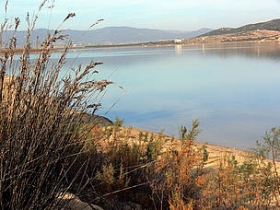 Tunis, Tunisia: A remote seasonal salt lake on the edge of the Sahara leads a list of 15 new Ramsar Wetlands of International Importance being declared in the country on World Wetlands Day, February 2.
Chott Elguetar, a 7,400 ha site with an intermittent lake, is vital to the survival of the threatened Scimitar Oryx, Addax and Dama Gazelle. It also contains traces of human religious and industrial activity that have been dated back 40,000 years.
WWF has welcomed the announcement, noting that Tunisia's designation of 15 new Ramsar Sites nearly doubles the country's total, to 35.
"These designations are the result of a long process that requires effort and time from the government and conservation groups," said Faouzi Maamouri, Coordinator of the WWF office in Tunisia.
"But even with everything this country has been through recently, there is a strong commitment to protecting wetlands and the services they provide for both people and nature."
The Ramsar Convention, so named for its signing in the Iranian city of the same name, is an intergovernmental treaty to maintain and conserve Wetlands of International Importance – or Ramsar Sites. These include rivers, lakes, marshes, mangroves, coral reefs and other natural or human-made wetlands.
Article continues: http://wwf.panda.org/wwf_news/?uNewsID=203379
Image credit: WWF/Faouzi Maamouri