Deadly Malaria on the Decline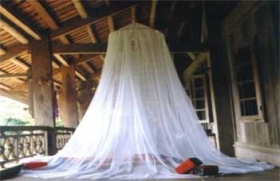 A new research study has found that malaria is killing twice as many people that previously believed. However, as efforts to combat the deadly steam have picked up, the total number of deaths is declining. In 2010, 1.2 million people died of malaria, twice as much as the last survey suggested. Researchers from the Institute for Health Metrics and Evaluation (IHME) at the University of Washington believe that the discrepancy is due to the previous studies assuming that malaria only kills children under age five. In actuality, 42 percent of malaria deaths are people aged five and older.
The IHME researchers found that over 78,000 children died of malaria who were age 5 to 14. Another 445,000 died who were 15 years and older in the year 2010. The new numbers show how deadly malaria can be for all age groups.
The silver lining is that overall malaria deaths are on a significant downward trend since 2004. In 2004, annual malaria deaths peaked at 1.8 million people. Since then, that number has been falling. Between 2007 and 2010, deaths declined by over 7 percent each year.
There are two main reasons for the positive outcome. First of all, bed nets are getting much wider use across the tropics. The bed nets are also treated with insecticides, so the deadly mosquitos don't even come near them. This solution is not only amazingly simple, it is also relatively cheap.
Secondly, there has been a scaleup of artemisinin-combination treatments (ACTs). Artemisinin is a Chinese herb that has been used to treat fevers for over a millennium. It has very rapid action; patients show vast improvements within 1-3 days. There are many other treatments for malaria, such as quinine, but artemisinin has been demonstrated as having the fastest clearance of all anti-malarials.
Of course this is all possible thanks to the boost in funding for anti-malaria efforts.International organizations such as the World Health Organization have taken up the cause of spreading bed nets and making treatments available. Global anti-malaria funding has grown from $250 million in 2001 to over $2 billion in 2009.
"We have seen a huge increase in both funding and in policy attention given to malaria over the past decade, and it's having a real impact," said Dr. Alan Lopez, Head of the School of Population Health at the University of Queensland and one of the study's co-authors. "Reliably demonstrating just how big an impact is important to drive further investments in malaria control programs. This makes it even more critical for us to generate accurate estimates for all deaths, not just in young children and not just in sub-Saharan Africa."
The IHME study has been published in the journal, The Lancet in "Global malaria mortality between 1980 and 2010: a systematic analysis."
For more information: http://www.healthmetricsandevaluation.org/research/project/global-burden-diseases-injuries-and-risk-factors-2010-study
Image credit: Permanet