Wild Lions Live in Constant Fear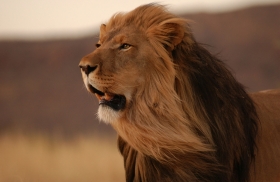 Some lions in the wild now live within a "landscape of fear" as a result of threats posed by humans.
Lions have drastically changed the way they behave and perceive their environment because of new, numerous and deadly clashes with humans, according to a new study, published in the Journal of Applied Ecology.
"The 'landscape of fear' represents relative levels of predation risk as peaks and valleys that reflect the level of fear of predation an animal experiences in different parts of its territory," lead author Marion Valeix of the University of Oxford's Wildlife Conservation Research Unit, told Discovery News.
She and colleagues Graham Hemson, Andrew Loveridge, Gus Mills and David Macdonald explained that most prey animals live within a fearful mindset which keeps them on a constant, stressed out watch. Now even high-level predators may live this way too when they exist in or around human-dominated landscapes.
The researchers studied the behavior, foraging and territory of lions living in one of the last natural migratory systems, the Makgadikgadi Pans National Park in Botswana, where abundant packs of Burchell's zebra and blue wildebeest live in different parts of the park on a seasonal basis.
Lands used by people for grazing their livestock surround the protected wilderness area. This creates a human-lion conflict, since when the zebra and wildebeest move en masse out of lion areas, many lions will resort to hunting livestock, such as cattle, to avoid losing established territories and reproductive loss, among other reasons.
GPS tracking of the lions determined that the major driver of lion behavior was the risk of conflict with humans. While the herders in Botswana do not always have easy access to firearms, some do.
Article continues: http://news.discovery.com/animals/lions-humans-behavior-120210.html#mkcpgn=rssnws1
Lion image via Shutterstock