Bicycle Benefits Program Rewards Pedal-Powered Customers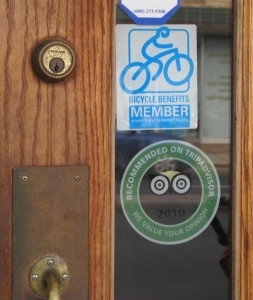 My three-year old daughter is one of the newest participants in Bicycle Benefits, a national program that rewards people for biking to participating businesses. Bikers pay $5 for a sticker that adheres to their helmet, which they present at participating businesses for a discount that is determined by each business. My daughter can now save 5 percent on her grocery bill from our coop grocery store or $.50 on a cup of coffee from the cafe down the street (if she wants to skip her nap). It's a fabulous initiative that encourages the business community to support pedal power, while promoting sustainable transportation and safe practices (wearing a bike helmet).
Participating businesses slap the Bicycle Benefits sticker on the front door to notify customers that they are part of the network. When checking out, participants show their helmet, which in turn raises the visibility of bikers -both to the business and other customers. This boosted visibility can have a ripple effect.
"The business community is a strong voice in the community," says Ian Klepetar, the mastermind behind Bicycle Benefits. "To get their backing in bike [infrastructure] initiatives and increase the number of customers arriving by bicycle is very important when talking about taking out a lane [of traffic] to put in a bike lane. Businesses don't get as nervous when many of their customers are arriving by bike."
For further information and photo: http://www.triplepundit.com/2012/02/bicycle-benefits-program-rewards-green-consumers/?utm_source=feedburner&utm_medium=feed&utm_campaign=Feed%3A+TriplePundit+%28Triple+Pundit%29&utm_content=Google+Reader